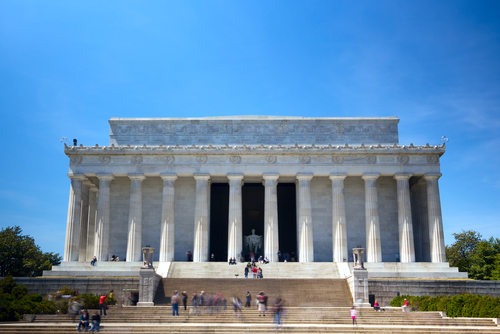 When former U.S. President William Howard Taft dedicated the Lincoln Memorial in Washington, D.C., more than 50,000 people attended. Countless more listened in via the new technology known as radio. Lincoln's own son Robert was there, as were veterans who had fought on both sides of the Civil War. It was May 30, 1922 — Memorial Day — and that war that seems so long ago now was still very much a real memory for many.
The Lincoln Memorial had been in the works since 1910, when two congressmen who had served with our sixteenth President pushed through a bill to create the memorial. Taft signed the bill on February 11, 1911, creating a commission and setting aside $2 million to build the structure. The final price tag was $3 million.
The commission considered design ideas as diverse as a giant pyramid and a highway. Eventually they settled on something ancient but less eccentric.
Henry Bacon, an architect from New York, designed the memorial to resemble a classical Greek temple, like the Parthenon in Athens. The memorial's 36 exterior Doric columns represent the number of states in the union at Lincoln's death. Each is inscribed with the name of a state and its year of admission to the union. The whole building is 204 feet long, 134 feet wide, and 99 feet tall, and it's made of stone from four different states.
As for Lincoln's son, Robert Todd Lincoln was just 22 in 1865, the year his father was assassinated. By the time he attended the dedication of his dad's monument, he was 78. It was his last public appearance. In his long career, he'd been U.S. Ambassador to the U.K. and Chairman and President of the Pullman Railroad Company.
He'd also served as Secretary of War under Presidents James Garfield and William McKinley. It seems incredible, but he was there when both of those Presidents were assassinated. No wonder he called himself "the most cursed man in America."