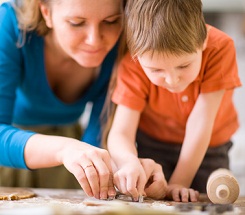 Recently, my kids have noticed the latest craze among students at their school: kendamas. A kendama is a Japanese wooden toy with two different size cups on either side of a spike, with a ball connected to the toy with a string. The object is to swing the ball to get it to land on one of the wooden cups or the spike.
Although I initially snubbed my nose at kendamas, thinking they're just another toy craze, I must say that I do appreciate the fact that they do not use batteries, require patience and practice to master and are a fraction of the price of electronic devices.
I haven't yet rushed out to buy kendamas for my daughters, but I'm all for encouraging them to enjoy nonelectronic activities. Although their interest in electronic devices will likely never cease and they should have a solid level of competence in our techno-driven world, it's also important to have balance. This balance should include activities – many of which may be even called "old fashioned" – that help expand their mind, level of patience and creativity.
Types of Activities
As with any activity, you want one that fits your child's age, personality and interests. Another consideration from the parents' side is cost. The types and number of ideas are endless, of course, but here are some suggestions that you can consider with your child:
Sewing
This is an activity I did with my mom, and although it requires great amounts of patience on the part of your child – and you – it's an incredibly satisfying one. Your child will have a tangible end-product that they put together piece by piece. In addition, they get to exercise their mind and creativity as they plan out their projects, choosing what they want to make, and the fabrics and colors. Not to mention, this is also a great cost-saving skill for later in your child's life, as they repair, hem and create items for themselves.
Origami
My kids love doing origami – the Japanese art of paper folding. They can create colorful and beautiful objects out of a single piece of colored square-shaped paper. This craft is also great for kids (and adults) of all ages because it can start with the creation of very simple but interesting objects to complex and more intricate designs. Origami is also said to be a wonderful method for honing important developmental abilities such as fine motor skills, eye-hand coordination, logical reasoning and problem solving. The convenience of origami is also a plus: it is portable – you can just bring colorful origami papers wherever you go.
Scavenger hunts
Kids love a good scavenger hunt – from planning and devising one themselves to being a participant and getting to the prize in the end. A fun way to set up a scavenger hunt is to hide a series of clues to each item found – each clue leads to the next object. Scavenger hunts can be done indoors or out and can be as elaborate (one that takes you out of your neighborhood and involves tricky clues) or easy (in your home and uses pictures as clues) as you'd like. This activity is also wonderful for encouraging team-building, friendly competition and reasoning skills.
Baking
One of the best benefits for your child with this activity is the baked good at the end. But the means to get there are fun and quite educational as well. Kids learn math skills as they have to understand fractions and measurements; science and chemistry as they see the effects of adding leavening products such as baking powder; motor skills as they have to crack eggs, measure out liquids and dry ingredients; and overall knowledge and usage of kitchen utensils and appliances.
Kids' Book Club
My daughters love to read and go through one book after another. This is great; however, it also would be wonderful to go a step further and have them use the books as a way to start discussions and socialize. Similar to an adult book club, a kids' book club can be scheduled once a month with willing participants. The meetings can rotate from home to home, and kids can discuss books they've read, have a snack and perhaps do a craft connected to the book.
One of the big differences between the electronic vs. nonelectronic activities is the amount of parental involvement needed. I have to admit that it can be convenient to hand over my smart phone to my oldest daughter so she is quietly occupied playing games. But I need to be conscious to not let those few minutes turn into multiple minutes. Also, my girls love when we do activities together, particularly some of the ones mentioned above. So although math and motor skills development is fantastic, these good old-fashioned activities usually also equate to good old-fashioned family time – the most important benefit and enjoyment to us all.