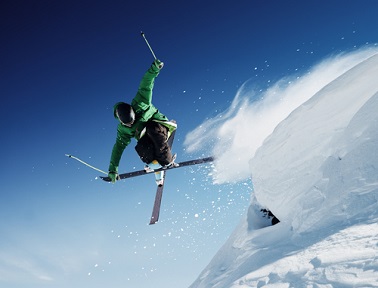 From February 7 to 23, I'll be encouraging my kids to watch TV, and lots of it. The reason: the XXII Winter Olympics. From bobsledding and hockey to figure skating and curling (yes, curling!), the Olympics gets us to squeeze in as much competition-watching as we possibly can. In addition to learning tons about winter sports and the Olympics in general, the Winter Olympics presents great opportunities for your kids to get familiar with different countries and have fun with accompanying activities, as well as inspires them to try new sports.
Historical Take
A helpful discussion about the Winter Olympics 2014 for kids can focus on how, where and when the Olympics started, as well as what has been the historical progression of the event. Were women always allowed to compete? What types of events were in the first Olympics? What do the blue, yellow, black, green and red circles linked together mean?
This discussion can then lead you and your child right up to present day. You can talk about what is happening that's different about this year's Winter Olympics. For example, a historic development will be taking place: the inclusion of a women's ski jumping event. Your child can also research into where the 2014 Winter Olympics is taking place – Sochi, Russia – as well as find out which countries are competing and where those countries are located in the world.
For older children, the Olympics also provides the opportunity to discuss the challenges it presents. For example, often the preparation of the games is fraught with controversy regarding the treatment of residents in the Olympic site and the congestion and pollution it can cause. Also, unfortunately, the Olympics over the years has been strongly influenced by money and politics.
Activities and, of Course, Food
Simply watching the Olympic events is activity enough but there are some other ways to further draw your children in. They can try out art activities such as molding Olympic medals out of clay and painting them, creating a chart to keep track of how many and what kinds of medals each country is winning and making the five Olympic rings out of pipe cleaners, paper or even possibly five different-colored frosted cupcakes. This year's mascots for the winter games are the hare, polar bear and leopard. Your child can draw pictures of each mascot and give their ideas for why they think each were selected as Olympic mascots.
Although winter sports may be difficult to do if you live in a warmer climate, you can still do some fun and active games to put your kids in the Olympic mood. They can do relay races, a ring toss and summersault or cartwheel competitions. Your child may even want to try some of these sports they're viewing – I'm sure ski resorts and hockey and ice skating rinks see a huge surge in business around Winter Olympics time.
As you're watching the Olympics on TV, you can create bingo game with cards that have different things to watch for; for example, the Olympic torch, the American flag or a flag from any particular participating country, Sochi landmarks and certain sporting events. You can also do a low-pressure quiz for older children that tests them on their Olympic knowledge, as well as on the details of this year's games.
You can even make some delicious Russian treats to go with your competition-viewing; for example, Russian hot chocolate and cream horns (trubochki) would go well with an Olympic opening ceremonies viewing.
"Swifter, Higher, Stronger"
One of the most important lessons your child can learn from the Olympics is learning about the amount of dedication, practice and hard work that goes into competing in this once-every-four-years event. From those who organized and sacrificed in preparing for this amazing worldwide competition to those competing in the games, all have put their hearts and souls into making this happen. The Olympic motto of "Citius, Altius, Fortius", which is Latin for "Swifter, Higher, Stronger" is what we will be witnessing. So pull up a chair with your child and enjoy two weeks of watching not only amazing athleticism, but better yet, dedication and commitment at its best.