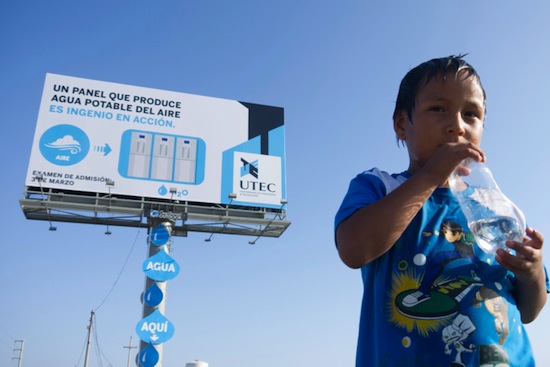 After you've come up with a billboard that draws drinking water from the air, what do you do for an encore? Make one that removes pollution from the air, too!
The South American coastal city of Lima, the capital of Peru, is extremely humid, meaning its air is very moist. But it's on the edge of the ultra-dry Atacama Desert, so it gets hardly any rain. As Time tech writer Matt Peckham wrote in a news report, most of Lima's drinking water comes from glacier melt and mountain runoff, sources that are slowly diminishing.
In 2013, the Lima-based University of Engineering and Technology (UTEC) joined forces with an ad agency, Mayo DraftFCB, to develop a billboard that provides fresh drinking water. Its filtration panels absorb water from the air and then funnel it to a tank at the base of the sign — complete with a faucet for public access. According to its creators, the billboard produces about 25 gallons of water a day.
The next year, UTEC took on another big problem for Lima: air pollution. Construction on the university's campus was adding more unhealthy stuff into the atmosphere — in a city where air-pollution levels are, Peckham wrote, already three times higher than the maximum the World Health Organization recommends. So UTEC developed an air-purifying billboard to help lessen the damage.
The new sign uses water to help filter out bacteria and other pollutants, then sends the freshened-up air back into the atmosphere. UTEC claims one billboard can purify enough air to cover a five-block area.
The university has shown there are ways to build pollution solutions into the building process, instead of treating cleanup as an afterthought. And by introducing these engineering advances on the same billboards that advertise its own educational programs, UTEC is proving its own value while scoring some high-profile publicity.