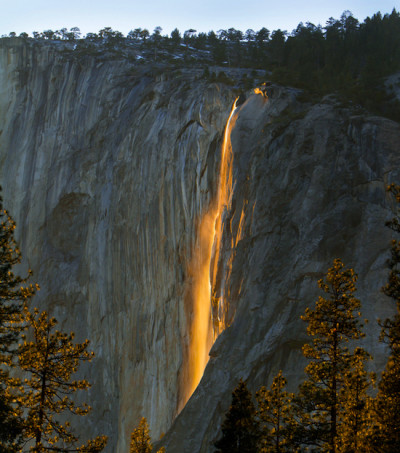 An ephemeral or temporary waterfall only flows at certain times, and usually not for long. ("Ephemeral" means "lasting a very short time.") This type of waterfall may last for a few hours after a heavy rainstorm or a few weeks due to seasonal runoff.
One cool example is Horsetail Fall in Yosemite National Park. (The park is home to many ephemeral waterfalls, but only Horsetail Fall and its cousin Staircase Falls have been officially named.) It appears in winter and early spring, fed by snowmelt off the El Capitan mountain. Tumbling down in two side-by-side streams, it drops nearly 1,600 feet — just under three times the height of the Washington Monument — onto steeply angled rocks, kicking up a mist before falling another 500 feet to the ground.
Horsetail Fall becomes even more spectacular on clear days in mid- to late February, when the setting sun hits it just right and briefly turns it into a glowing orange "firefall." Photographers flock to Yosemite to snap images of this effect, famously first captured in color pictures shot by Galen Rowell in 1973.
The Horsetail Fall phenomenon is a much safer spectacle than its older namesake, which was a popular Yosemite tourist attraction for nearly a century. Once upon a time in the park, a "fire fall" meant actual fire, actually falling off a cliff. This nighttime show was held off and on over the years, starting in 1872. The ritual changed somewhat, but basically it involved a huge fire being built at Glacier Point, high above Yosemite Valley, and the embers being slowly pushed over the cliff while visitors watched from below.
Not surprisingly, the spectacle had its critics. Concerns included the obvious fire hazard, along with crowds trampling the meadows, and the National Park Service officially stopped the burning fire falls in 1968.