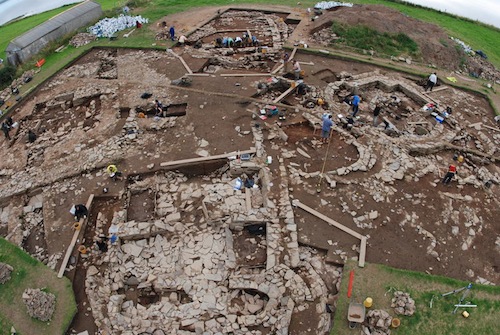 For decades, archaeologists thought a hill on Scotland's Orkney island was just a mass of moraine, or debris left behind by a glacier. But it's really a huge Stone Age temple complex full of artifacts.
The Ness of Brodgar, a strip of land between two lochs (or lakes) on the island, was already famous for the Ring of Brodgar. This circle of standing stones, generally thought to have been built between 2500 and 2000 BC, is the third largest stone ring in the British Isles. Orkney itself had long been an archaeological treasure trove of Stone Age sites. But after a 2002 geophysical survey of the area, archaeologists realized they had found something truly amazing.
"We have discovered a Neolithic temple complex that is without parallel in Western Europe," excavation director Nick Card of the Orkney Research Centre for Archaeology told the U.K.'s Guardian newspaper in 2012. "In fact the place is entirely manmade, although it covers more than six acres of land."
A series of excavations uncovered big sections of the complex, which features more than a dozen temples connected by stone walkways to outbuildings such as kitchens. Diggers have found pottery, the bones of sacrificed animals, stone tools, artwork, and evidence that these Stone Age people painted their walls with colorful pigments.
Although scientists don't know the exact purpose of the complex, it "wasn't a settlement or a place for the living," archaeologist Dr. Colin Richards told the Guardian. The official Brodgar dig's website explains that Richards believes a variety of people from many communities across Orkney helped build the complex, which was a focal point for religious ceremonies that remain mysterious to us.
Because the complex is situated between the Ring of Brodgar and the Standing Stones of Stenness, it's possible that these sites were all linked together as a "ceremonial corridor" that might have directed visitors from all around Orkney and nearby islands toward a key ceremonial point.