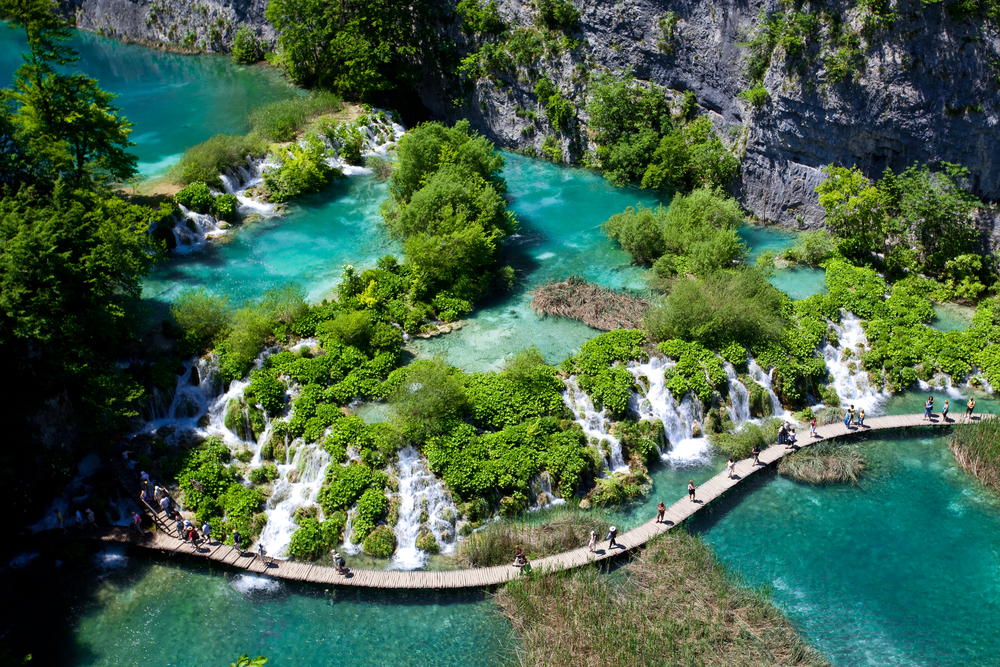 In Plitvice Lakes National Park, one of Croatia's most popular tourist attractions, you'll find 16 crystal clear lakes, hundreds of waterfalls, and a complex network of wood-paved paths affording magnificent views.
Croatia, which lies on the Adriatic Sea just east of Italy, is rich with natural beauty, and Plitvice (PLEET-veets-uh) is among its greatest treasures. In fact, UNESCO (the United Nations Educational, Scientific and Cultural Organization) ranks the area on its list of World Heritage sites.
The waters are so pure and clear, you'll want to dive in. Sorry! Swimming is prohibited everywhere in the park. In fact, the whole area has been protected from human intervention since 1979, which makes visiting it like taking a trip back through time. The area lures 1.2 million visitors every year.
Plitvice is so rich in waterfalls because the whole area is karst terrain, a type of landscape formed by rocks dissolving and then re-forming into new shapes as water moves over them. To this day, Plitvice's travertine limestone and dolomitic rocks (which date to the Triassic, Jurassic, and Cretaceous ages) are still forming new shapes, guided in part by moss, algae and aquatic bacteria that help shape mineral deposits into new forms such as dams and caves.
In addition to its lakes and waterfalls, Plitvice boasts forests that shelter wolves, brown bears, lynx, otters, bats, and roe and red deer, plus 126 recorded bird species — including owls and woodpeckers. About 75 plant species exist here and nowhere else.
The entire park covers 115 square miles, but the dense lakes area spans just about three square miles. In elevation, it ranges from 1250 feet at the bottom to 4200 feet at the top, and signs everywhere show you your current elevation.
Eight official routes afford a variety of experiences, ranging from a two- or three-hour stroll to an expedition that lasts eight hours. Trams and electric boats help move people around, or you can take in the sights on foot. But no diving!