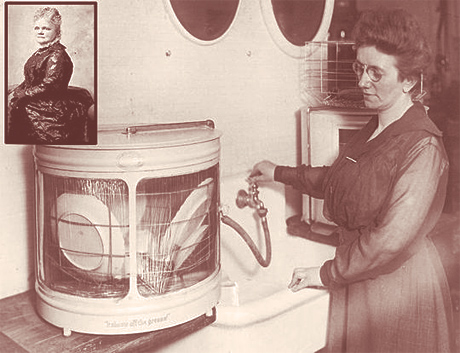 Josephine Garis Cochrane was an independent woman of the mid-1800s. When she married husband William Cochran, she took his last name but added an "e" to the end. And when she realized no one had yet created a proper automatic dishwasher, she invented one herself!
Josephine led a comfortable life in Shelbyville, Illinois. William was a successful businessman, and the couple often held dinner parties in their large home. She even had servants to clean up afterward. But one morning after a party, she found some of her good china had gotten chipped. She was so upset, she decided to wash the dishes herself from then on. It wasn't long before Josephine wondered why no one had invented a machine to do the job … and soon she had sketched out the idea that would become the first commercially successful automatic dishwasher.
Her design used water pressure to clean, just as today's dishwashers do. It had wire compartments for the dishes, which fit into a wheel inside a copper boiler. A motor turned the wheel while soapy water sprayed onto the dishes. It was practical, but Josephine had a hard time trying to hire a mechanic to build her machine the way she wanted, instead of insisting on building it HIS way. She finally found a man named George Butters to work with, and the Garis-Cochran Dish-Washing Machine was patented in 1886, three years after her husband died.
Josephine thought her invention would appeal to other housewives, but it was more of a hit with hotels and restaurants, maybe because it was an expensive appliance for a regular family to buy. She opened her own factory in 1897, and personally sold her machines nearly up until her death in 1913. In 1926, her company was bought by Hobart, which eventually became the modern appliance giant KitchenAid.