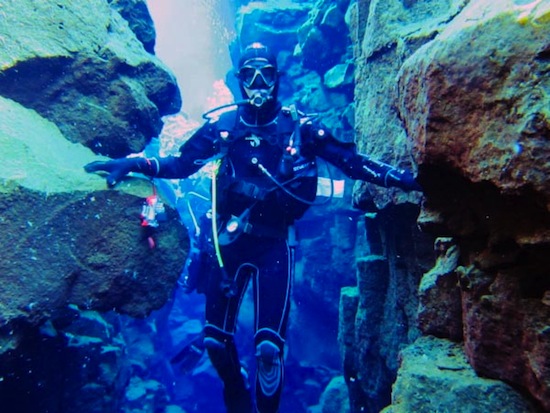 The Silfra crack in Iceland is a rift between the American and Eurasian tectonic plates. In some parts of this freshwater rift, a diver can touch both continents at once!
Divers love Silfra because the water is so clear that you can see more than 100 yards ahead of you. It's also very cold — about 36 to 39 degrees Fahrenheit. When the sun's rays illuminate underwater objects such as rocks, rainbows form as if refracted through a crystal. And a slight current that flows from the source into the lake pushes all foreign matter out, leaving waters in the rift totally transparent.
The water in Silfra is actually melted glacier water that wells up and slowly filters through a very thick layer of solidified lava, the result of a volcanic eruption thought to have happened about 12,000 years ago.
The main fissure is about 330 yards long, and it extends out another hundred yards or so into a lake called Thingvallavatn. The entire Silfra area — which includes connected fissures and a lagoon — totals about .4 square miles.
So what created this unique spot? Iceland is one of the few above-ground areas of the world's longest mountain range. For most of its length, the Mid-Atlantic Ridge tops out about 2,700 yards below the surface of the Atlantic Ocean, stretching more than 40,000 miles from the South Atlantic up to the north of Greenland.
Continental drift, or the movement of tectonic plates at about an inch a year, is constantly tugging on the ridge. We usually don't see the underwater effects, but it's why Iceland is rich in volcanic activity, geysers, and earthquakes, which release the tension between the plates. In fact, our word "geyser" comes from the Icelandic word Geysir, the name of one of the country's most famous geysers. The Great Geysir has been largely dormant since 1916, but Silfra is just one of many natural wonders that still draw people to Iceland