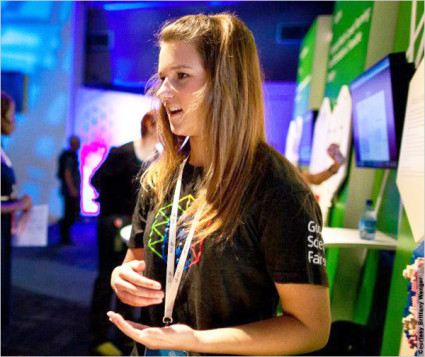 Breast cancer affects one in eight women. Now, thanks to Brittany Wenger of Sarasota, FL, doctors around the world can use her Cloud4Cancer Breast Cancer Detection tool to identify and treat this disease more easily.
In seventh grade, Brittany read about artificial intelligence and became "obsessed" with the concept. So obsessed that she took a class and learned to write computer code. Her first AI project was a program that learned to play soccer.
But when she was in 10th grade, her cousin was diagnosed with breast cancer, and Brittany decided to see if she could help. She spent "hundreds upon hundreds of hours researching," she later said, and created a program that trained the computer to determine whether a mass in the breast was malignant (bad) or benign (good), based on a description of its cells.
The tool lets a doctor input the data using pulldown menus on a simple web interface. More important, getting those cells requires only a fine-needle aspiration, which is the least invasive way to remove tissue for a biopsy. Until Cloud4Cancer, doctors couldn't really rely on that test for a diagnosis.
But now they can, because Cloud4Cancer diagnoses more than 99 percent of patients correctly. And it's cloud-based, so any hospital with Internet access can use it. So far, it has performed almost 8 million tests. Brittany won the Google Science Fair Grand Prize in 2012 for it.
"Helping to find a cure for cancer is a real goal of mine," she says. After winning the prize, she said she "wanted to prove that the infrastructure I built could work with multiple diseases." So last year, at age 18, she used her neural network to help doctors diagnose an aggressive form of leukemia. As she told the tech site Mashable, computers "can actually learn to detect things that transcend human knowledge."
Brittany is studying at Duke University now, and she wants to be a pediatric oncologist. She has given several TEDx talks and even explained her invention to President Obama at the White House. TIME Magazine recently put her on its list of Thirty Under Thirty people who are changing the world.