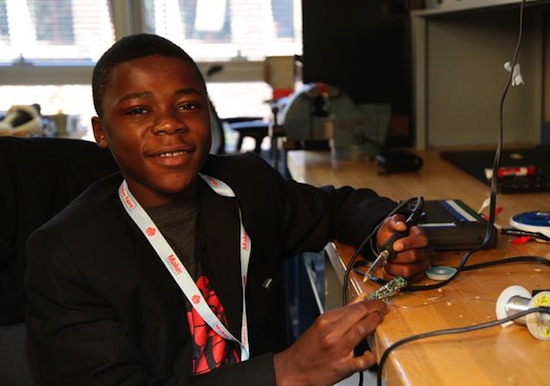 In Sierra Leone, a small West African country, the electricity comes on maybe once a week. The rest of the time, says teen inventor Kelvin Doe, people live in darkness in his hometown, a district of Freetown, the capital.
Commercial batteries are costly, so at age 13, he started making his own using basic supplies: acid, soda, metal, a tin cup, and tape. As early as age 10, Kelvin was building cool things out of stuff he salvaged from the garbage.
He made a radio station for his town and a generator (using a discarded voltage stabilizer) to power it. He found staffers for the station — their average age was 12 — and played music and reported the news, using the broadcast handle DJ Focus.
"They call me DJ Focus," he said, "because I believe if you focus, you can do an invention perfectly." Kelvin said he wanted to give a voice to the youth of Sierra Leone and enable his countrymen to debate issues. What's more, his neighbors can charge their phones using his generator.
In March 2012, David Sengeh, a PhD candidate at MIT who's also from Sierra Leone, went home to start a national high school innovation challenge. Innovate Salone, as he called it, asked teens to propose solutions to problems around them. About 300 smart kids participated, but Kelvin stood out.
He stood out so much, Sengeh arranged for him to visit the World Maker Faire in New York and also MIT and Harvard, where Kelvin lectured to college students and became the youngest person ever invited to MIT's "Visiting Practitioner's Program."
Kelvin later won his nation's Presidential Medal and met the Clinton family in New York, when he spoke at the Clinton Global Initiative's closing ceremony. He even joked with Chelsea about wearing a suit.
In 2013, he signed a $100,000 contract with a Canadian wi-fi company to develop a solar-panel technology for installation at 400 sites around Sierra Leone. He's also been working on a windmill, which may be done by the time you read this. And Kelvin will probably be doing some new cool thing by then too.
"Through innovation," he says, "We can build our nation Sierra Leone."