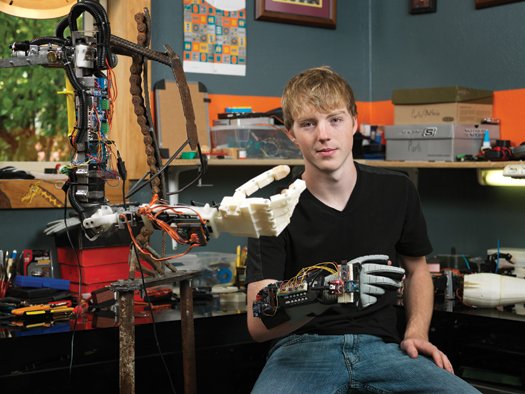 At age 14, Easton LaChappelle built his first robotic hand using Lego(R) parts, tubing, and electrical tape. By 2013, the Colorado teen's work on a low-cost robotic arm had landed him an internship with NASA.
So what inspired a kid from tiny Mancos, Colorado (pop. 1,200), to improve on human anatomy? Boredom. He had very little to occupy his time, so, he says, "I was forced … to figure out something else to do."
Easton used the Internet to learn programming, electronics, mechanics, and design, then created a robotic hand. It won third place at the 2011 Colorado State science fair, where he met a seven-year-old girl wearing a prosthetic hand. She had the most technically advanced model available, and it cost $80,000.
He was sure he could create a less expensive alternative. Using a borrowed 3D printer, he put together an arm and a hand for around $250.
When Easton presented it at the third annual White House Science Fair, President Obama shook the hand and suggested the teen show his work to DARPA, the government agency that helped create the Internet. Easton was selected for an internship at NASA, where he worked on humanoid robots called Robonauts.
At age 17, he built a third-generation arm controlled by a wireless headset that communicates brainwaves to the hand. These days, Easton is so well known that he gives talks before adult audiences and is recognized in the 3D and robotics worlds.
His bedroom at home is filled with computers, 3D printers, a grinder, a drill press, a soldering station, and arm prototypes. Of course, he has a video camera to capture his work and present it on YouTube.
Easton's goal is to make an arm even stronger than a human arm, one that can rotate 360 degrees and lift 200 pounds. He also wants to help deaf people hear, and to create a robotic exoskeleton to help a paralyzed classmate walk. He says, "This is what I'm meant to do."