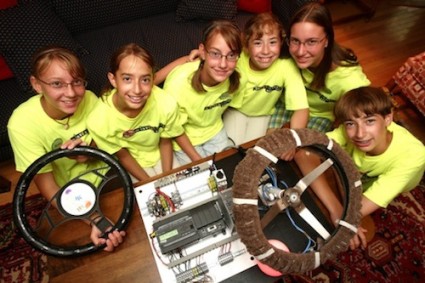 Everyone knows texting while driving is a bad idea. It's dangerous, dumb, and illegal. But that doesn't stop people from doing it. In fact, texting while driving has become the leading cause of death for teenagers … and adults. In 2011, almost a quarter (23 percent) of all car crashes involved cellphones — 1.3 million accidents.
Here's why: Texting takes a driver's eyes off the road for at least five seconds, and usually longer. But if you're driving at 55 mph, you'll cover the length of a football field in five seconds … without looking at the road. All kinds of things can happen: Other cars stop or change lanes, people step into the road, accidents happen up ahead … and if a driver isn't aware of what's coming, he or she can get into real trouble. Texting makes crashing up to 23 times more likely.
So a group of teens who call themselves the Inventioneers decided to do something about this growing and dangerous problem. They created the SMARTwheel™, a device that fits on a steering wheel and monitors a driver's hand positions. The name is an acronym for Safe Motorist Alert for Restricting Texting, Tweeting, Typing, Touchscreens, Takeout and Touch-up. (No eating or fixing your makeup while driving, either!)
How it works: The SMARTwheel senses if you take one or both hands off the wheel for more than a very brief time, and it provides instant audio and visual feedback.
It also logs unsafe driving and can be set to transmit a record of someone's driving to other people, such as parents, employers, teachers, and even — for people with very bad driving records — parole officers. The device has been tested at MIT and even at the White House, where it got a thumbs-up from President Obama.
This isn't the first time the New Hampshire teens have invented something useful. They've also created a self-powered water filtration system and a unique biofuel generator.