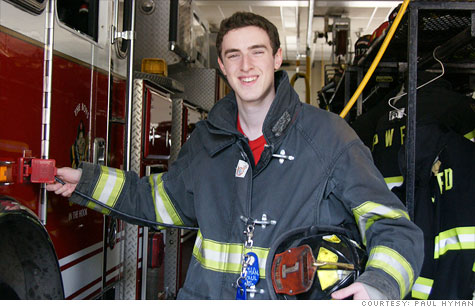 By combining his love of inventing with his work as a volunteer firefighter, 17 year-old Paul Hyman got a scholarship to a college where he can continue to dream up and test out ideas.
As a high school student, the Long Island, NY, teen volunteered as a firefighter in his spare time. He saw that firefighters faced many challenges, such as trying to prevent fires before they happen, and navigating through smoke-filled rooms.
This led him to invent two devices: a detector that can sense and extinguish lint fires in laundry dryers, and a camera that helps firefighters see through smoke.
Many home fires occur when the accumulated lint in a laundry dryer ignites. Dry, porous lint is made up of particles of fabric that come off clothes in a dryer. When exposed to enough heat, lint can burn very quickly and intensely, sparking bigger fires.
When Paul's detector senses lint is about to catch fire, it sounds an alarm. If the lint does ignite, the device releases carbon dioxide (CO2) to extinguish the flames before they spread. CO2 displaces the oxygen a fire needs to burn, thus putting out the flames.
But that's not all Paul has invented. When fighting fires, he found it difficult to see while moving through smoke, so he came up with the idea of putting a small infrared camera inside a firefighter's helmet. Here's why: Human eyes use visible light to detect objects, but smoke can obscure that light and disorient a firefighter. Paul's infrared cameras — like night-vision goggles used in combat — let firefighters see object by temperature, effectively letting the firefighters see through smoke.
Paul's ingenuity has won him a full college scholarship. Even better, he can keep inventing while studying: His school has an incubation program that encourages students to build and test prototypes.
After he graduates from college, Paul intends to carry on as an inventor by starting his own fire-safety equipment business.