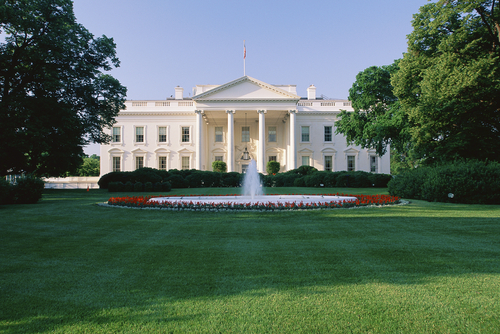 Harry S. Truman called it a "glamorous prison," while Gerald R. Ford called it "the best public housing I've ever seen." Ronald Reagan, according to his wife, Nancy, said it was "an eight-star hotel" (usually, the best hotels are called five-star hotels). The White House is one of the most exclusive homes on Earth, and here are some interesting facts about it.
• George Washington chose its site in 1791, and the cornerstone was laid the following year. President John Adams and his wife, Abigail, moved in in 1800, before construction was even finished.
• Total cost to build the original White House? $232,372. That's roughly $4,380,000 in today's dollars, according to one historical currency converter.
• British soldiers set the White House on fire in 1814, during the War of 1812. They were getting back at us, because U.S. soldiers had recently set Canadian buildings on fire in York, Ontario.
• The White House was the biggest house in this country until after the Civil War.
• So how big is it? These days, it has 132 rooms and 35 bathrooms spread out over six levels. And there are 412 doors, 147 windows, 28 fireplaces, eight staircases, and three elevators.
• Theodore Roosevelt officially named the White House in 1901. Until then, people called it many names, including the Executive Mansion and the President's Palace.
• Up to 140 guests can attend a sit-down dinner at the White House. If they're just having appetizers, the kitchen can serve more than 1,000 guests at once.
• Want to paint the outside? Better bring friends. It takes 570 gallons of paint to cover  the White House.
• Though a few of these features have been removed, the White House grounds have included a movie theater, a one-lane bowling alley, indoor and outdoor pools, a game room with billiard and ping-pong tables, a jogging track, a putting green, and a tennis court. Barack Obama added removable basketball hoops to the tennis court so he could practice his own favorite sport.