Brad Meltzer is the #1 New York Times bestselling author of thrillers like The Escape Artist, non-fiction books like The First Conspiracy: The Secret Plot to Kill George Washington, gift books like Heroes for My Son and Heroes for My Daughter, and of course, the Ordinary People Change the World series. He also helped find the missing 9/11 flag with his History Channel television show Brad Meltzer's Lost History. (And did you know that a picture of Brad is hidden in every I AM book?)
For even more about Brad, visit him here: www.bradmeltzer.com. and here:
Home | Ordinary People Change the World
We had a chance to talk with author Brad Meltzer about how he became the writer he is today. His books explore the power of ordinary people doing extraordinary things, action adventures and events in history. He also shares how the words of a teacher changed his life.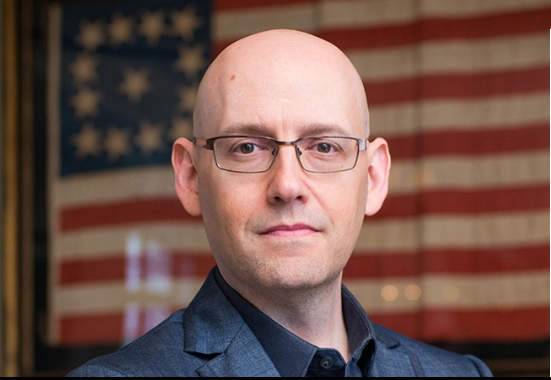 How did you get started writing?
These books have always been for my own kids – to give them better heroes to look up to – heroes of kindness, compassion, and character. Today in America, we've lost that sense of character. We need it back. We started the Ordinary People Change the World series to do just that.
Who was a favorite author for you as a kid?

Judy Blume and Agatha Christie changed my life.
Can you share the title of your favorite book as a kid?
Are You There God? It's Me, Margaret. And The Monster At the End of This Book.
What subjects interested you in school?
History. I always loved history. And I always loved reading comics and telling stories.
What's a piece of advice or words of encouragement you got from a teacher or mentor?
My ninth grade English teacher changed my life with three words: "You can write."  When she couldn't get me transferred into the honors class, she said, "You're going to sit in the corner for the entire year and ignore everything I do on the blackboard. You're going to do honors work instead." She was really saying 'you're going to thank me later,' and a decade later when my first book came out, I went back to that classroom, knocked on her door and said, 'I wrote this book, The Tenth Justice, and it's for you.' And I gave her my first published book and she started crying. I said, 'Why are you crying?' She said, 'I was going to retire this year because I didn't think I was having an impact anymore.'
What do you read now?
Comics books. Non-fiction. Fiction. Young Adult. I read it all. Anything and everything.
How can kids get excited about reading?
Give them what they love to read. Growing up, my Dad knew I loved Batman. So he always bought me more Batman. I never stopped reading. I owe him forever for that.
What do you think about making a movie from a book?
The book is always better.
Who is someone from the past, or present time, you would like to have a conversation with?
Mister Rogers. Or Jim Henson. Or Abraham Lincoln. My list is long.
What was the inspiration for the "I Am" series?
The series was born because I was tired of my daughter looking up to Instagram influencers and thinking they were heroes. I tell my kids all the time: That's fame. Fame is different than being a hero. I wanted my kids to see real heroes…and real people no different than themselves.
How do you work with an illustrator to put a book together?
I tell him what to draw and he ignores me and draws it way better. Chris Eliopoulos is the real star.
What do you hope readers take away from your books?
For us, it's a very conscious choice to draw each hero as a kid. We see them as children. So it's not just Dolly Parton and Abraham Lincoln being famous — it's them being just like us. Then kids can relate. They can see that each hero was just like them. As a result, for our kids and for us, these aren't just the stories of famous people.  They're what we're all capable of on our very best days.
What's coming up next for you?
I AM SUPERMAN and I AM BATMAN come out September 27 and the Ordinary People Change the World series expands to Stories Change the World, teaching kids the power of their imagination. Then we have I AM JOHN LEWIS in January, and I AM TEMPLE GRANDIN, our first autistic hero, in March.
ALICEKNISLEYMATTHIAS.COM · AKNISLEYMATTH · ALICEKNISLEYMATTHIAS