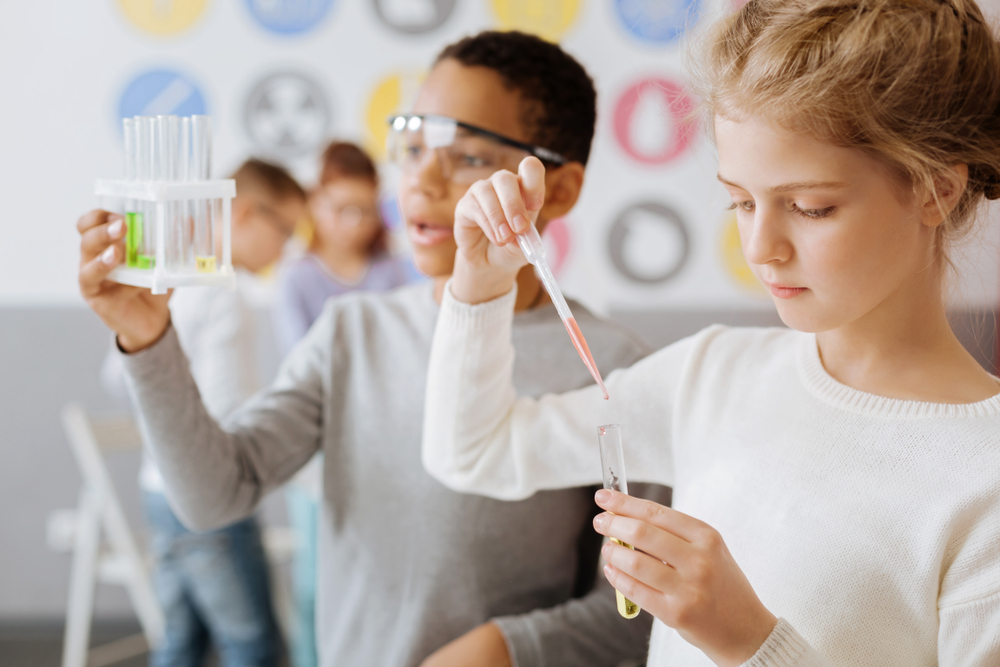 Sometimes, when I'm speaking to my class, I imagine myself like the teacher in Charlie Brown — waaah wah wah waaah waah. And then I look at my students' blank, bored faces, and it kind of confirms it.
I have to admit, I hate the typical "whole class instruction." 
I hate:
lectures and powerpoints (minute upon minute of

waaaah wah wah waaah wah)

(teacher)

question and

(single student)

answer

sessions

and teaching from the front of the room, in general
Why?
Because I firmly believe in the adage, "the one doing the talking is the one doing the learning."
And that means: if my students aren't talking, are they really learning? 🤨
A Small Degree Of Chaos
That said, I also realize just talking isn't the same as talking that results in learning — or "productive student talk." Incorporating talk and discussion therefore requires some structures and strategies, some boundaries and goals. While it's paramount that our students are talking in our science classrooms, simply throwing out a question and saying "discuss" is a surefire way to either total social time or utter silence. 
Neither outcome is ideal.
Instead, I try to aim for a small degree of chaos:
opportunities for students to talk about their ideas, their observations, their thinking; 

chances to challenge and support one another's thoughts; 

enough noise where I can tell everyone is involved but also clearly not gossiping about what happened on so-and-so's TikTok channel. 🤦🏼‍♀️ (Side Note: I feel

so

old

writing that, by the way.)
So how do we accomplish a small degree of chaos that actually supports student learning? Well, here's a few ideas that have worked well for me in my classroom.
Strategies To Get Students Talking
A-B Partner Talk Protocol
I learned about the A-B Partner Talk Protocol at an NSTA conference years ago, and I've used it in my classroom to help students encourage each other to dig deeper into their thinking and reasoning. It also supports students truly listening to one another and learning from one another.
The A-B Partner Protocol has stages in which students take turns responding, and it provides specific prompts for students to use at each stage. 
It's a very structured discussion, but it can be really useful for student groups that struggle to engage in discussion at all. It's also great for students who tend to dominate discussions, because they really have to "pass the torch" of the talk and truly listen to another students' ideas. 
You can learn more about the A-B Partner Talk Protocol at the Ambitious Science Teaching site.
Dot Plot Barometer Strategy
Ok, that's not the real name. Honestly, I couldn't figure out a "real name" despite Googling everything I could think of to describe this strategy.
Basically though, students are posed with a question that has two potential answers. These two answers are placed on opposite sides of each other on the board (or a table or your floor, etc.) and connected with a line of thick tape (or paper, etc.).
In science, you might pose a question that could be answered with two legitimate claims. In my students' last unit, they investigated what caused a population to increase in an ecosystem. They were then presented with two possible claims.
Students were given dot-stickers with their initials/names on them. They then placed their stickers on the tape-line to indicate which claim they agreed with and how strongly they agreed with it. How sure of the claim were they? Students who were super confident in a claim would put their sticker nearest to the claim, while students who were less confident might put their sticker toward the center of the line (in between the two claims). 
For the discussion part, I created groups of 3-4 students, choosing students with different viewpoints — who chose different claims or represented different levels of certainty. During discussion, students who felt strongly about a claim were asked to share their thoughts first (why they agreed, what evidence supported it, etc.), and students who were less certain were asked to respond. (I also provided a few sentence stems with response ideas to get students started!)
By breaking students into small groups, by providing structure, and by mixing up viewpoints (and thereby reducing an "echo chamber" effect), the discussion experience seemed to be both engaging and productive for students.
I'm definitely going to try this one again!
Chat Stations
I first learned about Chat Stations from Cult Of Pedagogy. (See her post here!) This strategy pairs a "station style rotation" with "student talk and discussion." Students move from station to station, where they are posed with a question to consider and discuss. Beyond a question, you can absolutely use images, short videos, graphics, or data sets as the discussion prompt. 
We recently began our new unit, which involves some solar system exploration and questions of habitability on other planets. 
(I actually love that concept as a gateway into the solar system, as it combines what students know "here on Earth" with the more abstract "out there in space" — creating a connection between the two that you can really build from. Anyway!)
So to launch that unit, I used chat stations to spark my students' curiosity, get them talking to each other (one of the goals in my classroom this fall!), and also provide me with some insight into what my students already knew! (Side Note: If you're just getting started with stations – or maybe are hesitant to even give them a try – this post is for you!)
At each table, I set out a piece of large paper with a question posed on it — what might scientists look for to determine if a planet is habitable? what evidence might suggest water can be found on a planet? what do you know about the solar system? what do you want to know about our solar system or the universe? (They weren't all the greatest questions, but I needed six stations to keep the groups small! #reallife) Students discussed the questions and then each student recorded their responses on the poster paper.
After students rotated through the stations, spending just 2-ish minutes at each, we debriefed the responses in small groups. I had students look closely at the questions designed to spark their curiosity, determining which responses they agreed with or could learn from, while I reserved the "prior knowledge prompts" for my own reflection and unit preparation.
It was an incredibly simple task, but it was really valuable to both myself and my students. My favorite part was seeing students truly talking to each other and then afterwards, learning from one another as they discussed the answers given by the class at large. Plus, because students were writing their ideas down, even kids who are typically hesitant to speak up verbally were able to share their thoughts and ideas with their classmates. 
The One Doing The Talking
"The one doing the talking is the one doing the learning." 
While it can feel exhausting as a teacher to deal with classroom chatter when we "don't want it", our goal really should be to bring in more classroom chatter. For one, our adolescent students with their high "social demands" need it. And two, active engagement is at the foundation of learning. Of course, our goal is to channel that chatter into productive discussions, and that means we need to go beyond the "pose a question and set them free" model. Providing structure, boundaries, and guidance can help our students engage in productive talk and ultimately increase student learning. 
If you have a chance to try some of these strategies, I hope they work as well for you as they did for me!