Kids Discover loves our teachers! We are continuing our goal to honor the amazing educators within our community with another installment of Educator of the Month. For April, I'm so happy to introduce Felicia Croall!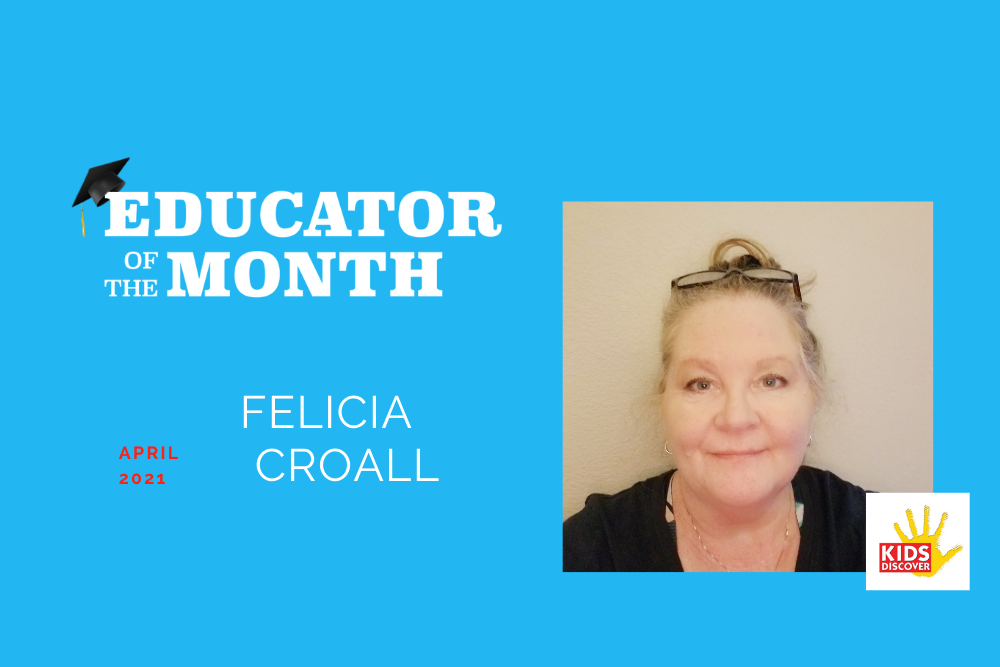 What has your teaching career looked like?
As a new elementary educator, my career is still blossoming! However, my teaching and instructional career actually began to shape itself decades ago in training fraud investigators, law enforcement officers and teaching college Criminal Justice courses.
Though my initial plans and goals did not include being a 'school teacher,' I think I was influenced and inspired through the experiences of raising my own children. Most specifically, I know for a fact that witnessing my daughter's tenacity and drive to succeed, despite her learning differences, made an indelible impact on why I abandoned pursuing a Ph.D. in Criminal Justice. Shortly after completing an M.S. in Administration of Justice, I swerved off to a different path… and here I am now, three master's programs later, finishing an M.A. in Special Education/Teaching Diverse Learners!
Though much of my experiences are directly tied to the pursuit of degrees, my formal K-12 teaching experiences include substitute teaching, a year's worth of student teaching, English Foreign Language virtual teacher to public school students in China, 2nd grade remedial Reading in summer school, 1:1 virtual tutoring students with learning differences, and my current position teaching in a virtual elementary setting.
Where do you teach now, and what grade/subject?
I am currently teaching virtual 3rd through 5th grade with Varsity Tutors' School@Home program! The subject areas include upper elementary Art Appreciation (3rd-5th), 4th grade Advanced ELA, 5th grade – all content areas. I teach small classes of 5 to 20 students, as well as 1:1 remediated classes (all 5th grade – IEP students), and 1:1 tutoring (5th grade reading, Orton-Gillingham, remediation/support)!
How has your teaching experience changed in 2020?
The impact of the COVID pandemic has really expanded the '5Ws' of my teaching career. Previously, the Who, What, Where, & When of teaching while attending graduate school was limited. However, after schools began shuttering and people began seeking virtual tutoring, I found myself swimming in opportunities. After tutoring (1:1) with Varsity Tutors for a few months, I received an invitation to apply for their virtual school (called School@Home) program. I was ultimately hired, and now I have a band of wonderful students who beam in for class from all over the country. So despite the hardships and losses that have resulted from the pandemic, I have been really fortunate to have been in the right place at the right time.
When did you add Kids Discover to your classroom routine?
Kids Discover has become an invaluable resource for my 5th graders, especially for Social Studies! The need for such a resource became evident as soon as I was assigned the class because there is no textbook. The company doesn't provide curriculum, prepared lesson plans, or lesson materials, and all content and curriculum are created and planned by the teachers. Using CCSS, NCSS, and other state-based guidelines, I knew that I needed a reliable, factual, and visually appealing resource for my students.
As a magazine junkie, I have always had an affinity for big, beautiful, and visually stunning periodicals! I fondly recall the first time I got my little hands on an Omni magazine and went rushing home, cradling the issue tightly in my arms. I wanted to replicate that experience as closely as possible for my students… but how? In a virtual environment? Enter Kids Discover! Online, AND, amazing to look at…who could ask for more?!
What is your favorite feature or aspect of Kids Discover?
I would have to say that the best aspect of Kids Discover is Kids Discover. Not only can students decide what tools they want to use (if needed), they can also demonstrate understanding. Sometimes they might get opportunities for a 're-do if I opt to have them retake an assessment (great feature). They are supported with multisensory supports (e,g., the images, the read-aloud options, dictionary, and translation tools, to name a few). Kids Discover provides inclusivity, self-sustenance, autonomy and interactivity, and personal accountability for all students. Not to mention the potential for amazing adventures that can be had while navigating through all of the different focus areas!
What do you love the most about teaching?
It is hard to pin down just one singular aspect that I can claim to be the most loved. Sharing the top spot are:
1) those bright eyes and big smiles that appear on students' faces when they realize they have mastered something
2) kids being kids – they have amazing views on the world around them
3) feeling like I am in the right place doing the right thing at the right time, at this point in my life… if that makes sense!
It is a wholly unique experience that I have discovered amidst the day-to-day of working with my students.
What are your hopes for the future of education?
I would love to see virtual teaching and education become more prevalent. However, it must be more focused on student needs. Too many children have been left out in the cold. Not a new fact; disparities in education were known prior to the pandemic. Yet the pandemic has exposed how a lack of access (and lack of technology) has been exacerbated to the extreme for way too many students.
[putting soap box away]
Ultimately, I believe that all students have a right to an amazing education. I think it is high time that we make a collective effort in this country to make that happen.
That is what I hope for in the future of education!