Kids Discover loves our teachers! We are continuing our goal to honor the amazing educators within our community with another installment of Educator of the Month. For May, I'm so happy to introduce Pam Runyon! She's pictured below with her sweet mom, who helps grade papers and inspires her students to learn!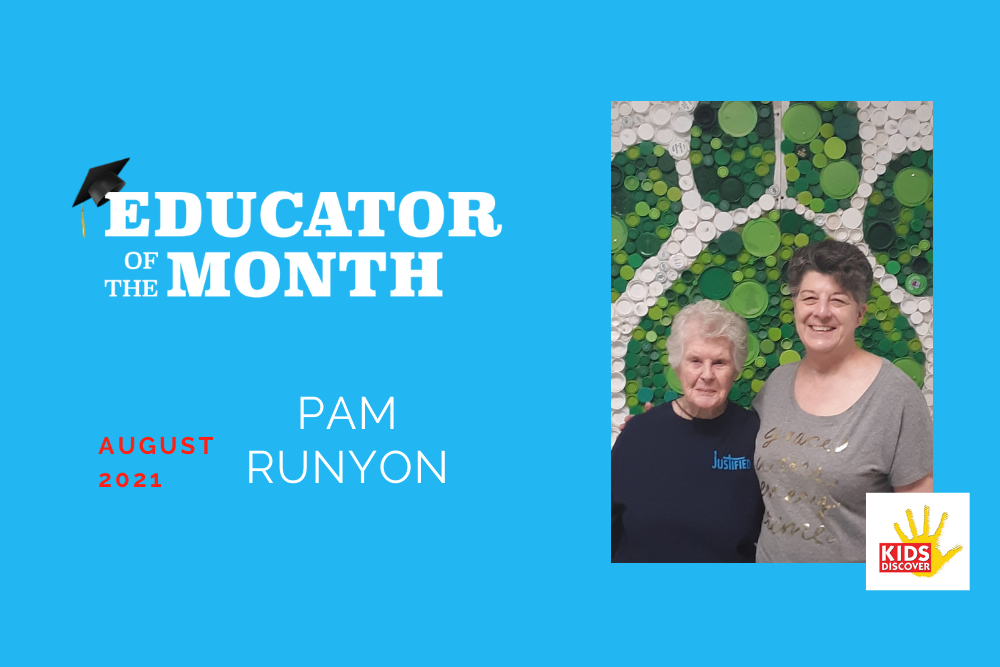 What has your teaching career looked like? 
I worked for 13 years as a teacher's aid, mostly in a Special Education classroom.  I loved working with students but wanted more responsibility for student growth.  I continued my education to become a teacher and began working (a little later in life than the average teacher)  in  a classroom for students with Autism, then a year in 3rd grade, a bit of RTI and finally landed in sixth grade 8 years ago.
Where do you teach now and what grade/subject?   
I teach in Smithton, IL and I am excited to teach Science and Social Studies to my 6th graders.
When did you add Kids Discover to your classroom routine?  
I had seen the magazines before, but when I saw the online option I began using it about 2017.
How has Kids Discover impacted your students?   
I feel Kids Discover helps me reach all of my students who have a range of abilities.  Since they all learn differently, we do not have to just stay with a textbook and worksheets.  Kids Discover Online has a read-aloud option that many of my students make use of.  Kids Discover was an invaluable tool during remote teaching at the end of the 2020 school year and the beginning of 2021.  My student found it interesting and easy to navigate
What do your students think of Kids Discover?  
When I asked my 6th graders what they liked about Kids Discover, they said they really enjoyed all the pictures.  They like the 360* view and clicking on pictures to bring up more information.  Some liked the way it could read to them.  They also like the opportunity to explore independently.
What is your favorite feature or aspect of Kids Discover?   
Do I really have to pick just one?
Since I have several students with IEPs in my class, I like that all of my students have the option to use the read aloud component and many of them enjoy that.  
I also really like the Discover Map – I often allow students to take time to explore topics we will not cover this year that they are interested in.  I like that Kids Discover covers both Science and Social Studies (including some geography).
What do you love the most about teaching?   
I love to teach because I get to build relationships with my students.  I love to inspire students to learn new things their whole lives.  I encourage them to be independent thinkers.  I help them realize it is okay to be wrong since it gives you an opportunity to learn (I celebrate wrong answers in my class 😄). Kids Discover allows me to have more conversations with my students as they realize that the more they learn, the more questions they will have.
What are your hopes for the future of education? 
As I near the end of my teaching career, I truly hope the new batch of educators will value curiosity and exploration.  I want my 6th graders to get into high school and college and still be eager to learn.  I want them to ask bold questions and seek answers.
Education is not just about the 3 Rs – it is helping students learn how to be the best citizens they can be, to contribute to the world and make it a better place just because they are in it. I want education to help develop lifelong learners!