Kids Discover loves our teachers! We are continuing our goal to honor the amazing educators within our community with another installment of Educator of the Month. For March, I'm so happy to introduce Veronica Serrano, an 6th Grade Teacher from Pasadena, California.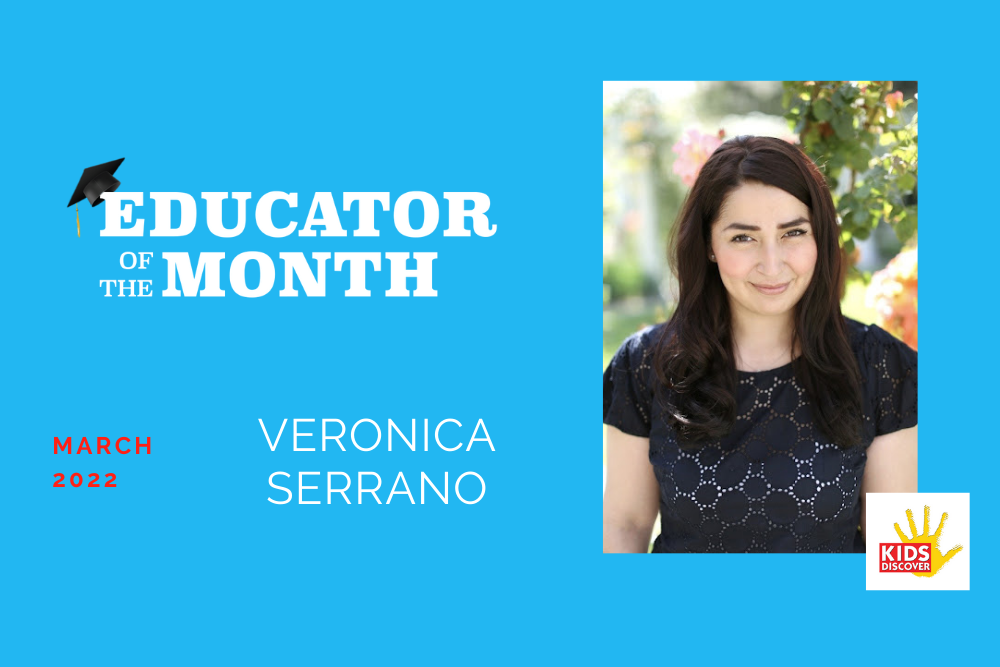 What has your teaching career looked like?
I have been a teacher for the last 16 years. Out of those 16 years I have taught 6th grade for the last 10!
Where do you teach now and what grade/subject?
I teach at Marshall Fundamental in Pasadena, CA. We are a 6th-12th school.  I teach 6th grade Honors, self contained for core subjects ( English, Math, History, Science)
How has your teaching experience changed in recent years?

Teaching is being able to constantly adapt to new generations and new ways of engagement for the students. In recent years it has been vital to meet the needs of students in a way that is visual and entertaining.
When did you add Kids Discover to your classroom routine?
I added Kids Discover the year Covid began as they offered teachers a free membership. It was an amazing tool to have in a moment that teachers had to learn so many new things in a matter of days.
How has Kids Discover impacted your students?
That particular year I surveyed my students and asked them if they felt that I should get the subscription for the next group of students coming up.  In an overwhelming response my students all recommended it! They loved that the material was very kid friendly and that it felt more engaging to them. They loved that they could watch little videos with the articles or learn more through clicking at the diagrams.
What is your favorite feature or aspect of Kids Discover?
As a teacher I love that I can create tests and quizzes directly on the site. Also being a self contained teacher I am able to pull articles from history and science!
What do you love the most about teaching?

Teaching is such rewarding work. There is a point in every year that you see students get it. They are able to see connections of how all the subjects they learn are interconnected and not independent of each other. The true beauty of teaching is having students love learning and apply what they learn to their world.
What are your hopes for the future of education?
My hope for education is for students to continue to challenge themselves in and and out of the classrooms. To have all the necessary tools for educators to be able to instill the love of being a lifelong learner.