This is a guest-blogger post that was originally published on The Library Voice blog, by Shannon McClintock Miller. 
Last month I was so excited to share a new favorite with all of you….Kids Discover Online! You can read my post here: A Whole World Of Discovery In Science and Social Studies With Kids Discover.
Now I have something from Kids Discover that will make you want to dive in today: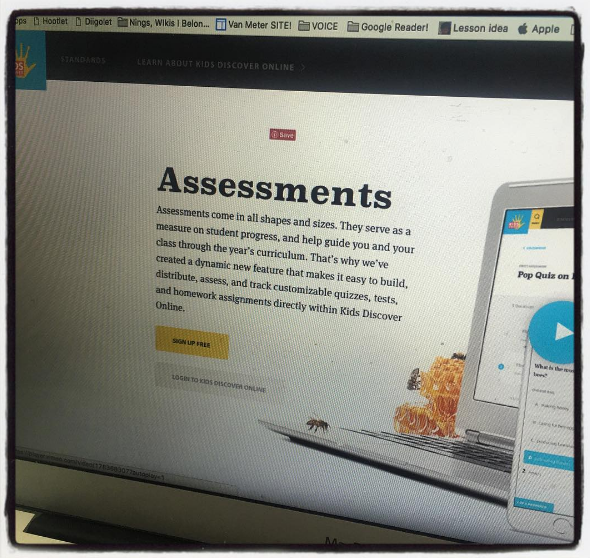 They have created a new feature called Assessments within their amazing platform. This is going to change the way you use Kids Discover with your students and as an educator.  
After I saw all of the awesome features the assessments tool included, I had to give it a test drive myself!  
In my first post, I told about how my nephews Cameron and Carson loved what they found about Jackie Robinson in Kids Discover Online.  
I went back into the content about Jackie Robinson to create an assessment about him, too.
It is easy to create a new assessment.  You do it within one of your Classrooms.  When you go to a Classroom, you will see the Content, Students and Assessments tabs at the top.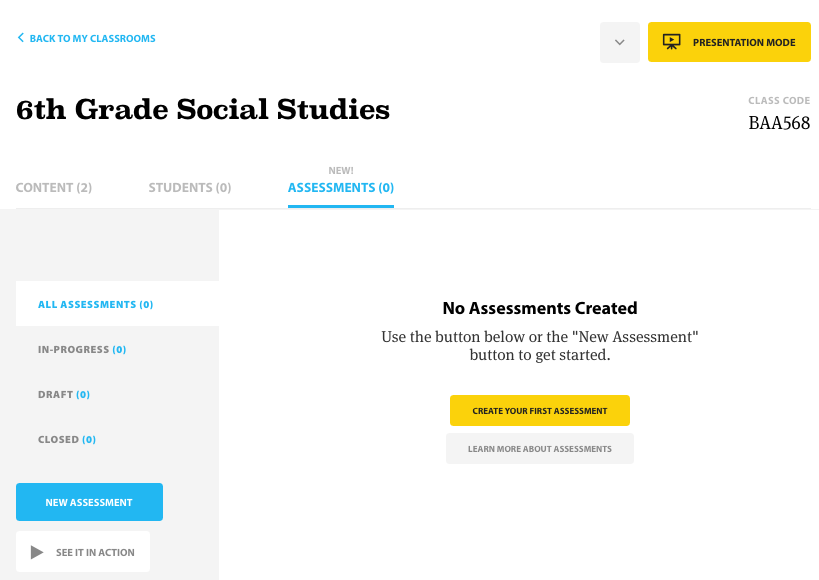 Just click on Assessments to start a….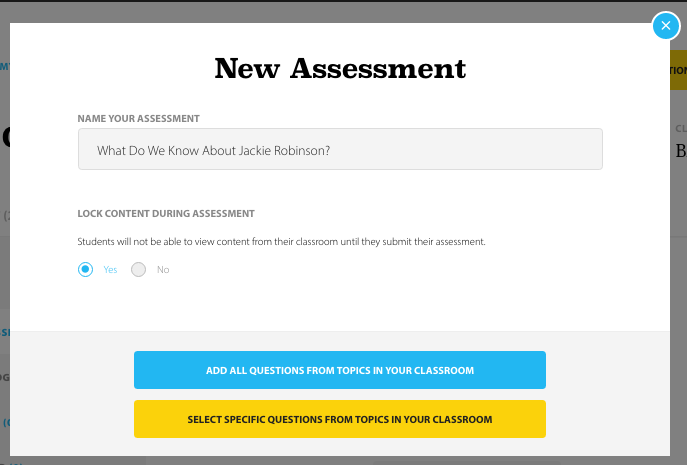 New Assessment.
When you create a new assessment, you have the option to keep the content private from the classroom until students submit their assessment.
At the bottom of the window you can add all questions from topics in your classroom or select specific questions from topics in your classroom.
I decided to add questions from topics in my classroom.  Since my classroom contains articles about Jackie Robinson, it brought up 12 pre-made questions I could choose from.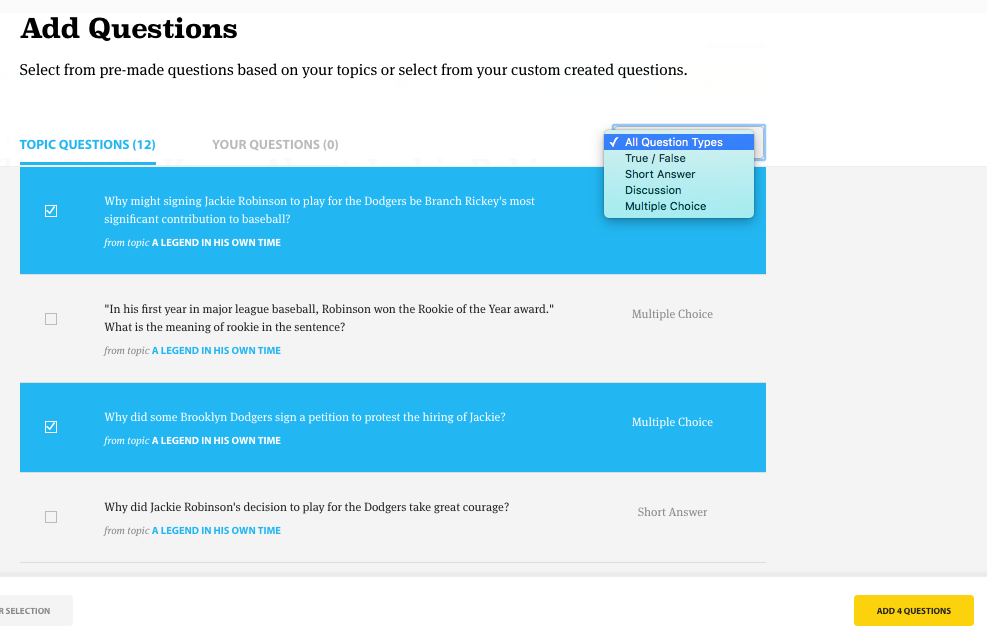 You just select the questions you want and add them to the assessment.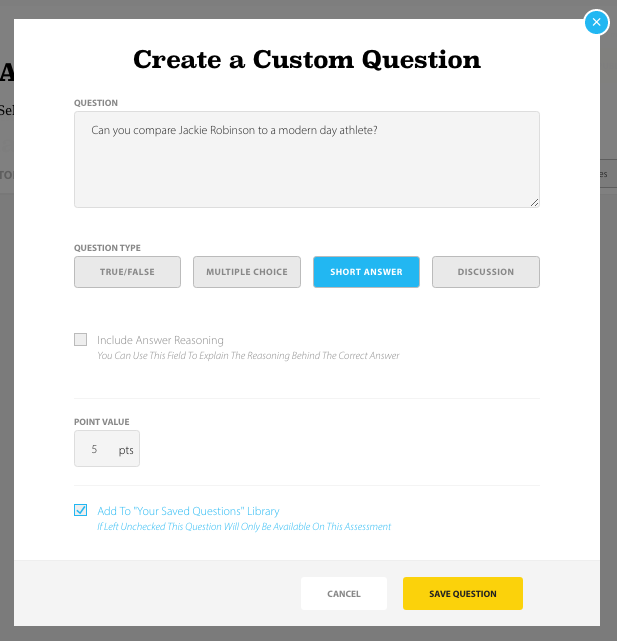 I also decided to create a custom question by typing in the question and choosing the question type.
You can also select the point value and add to the library.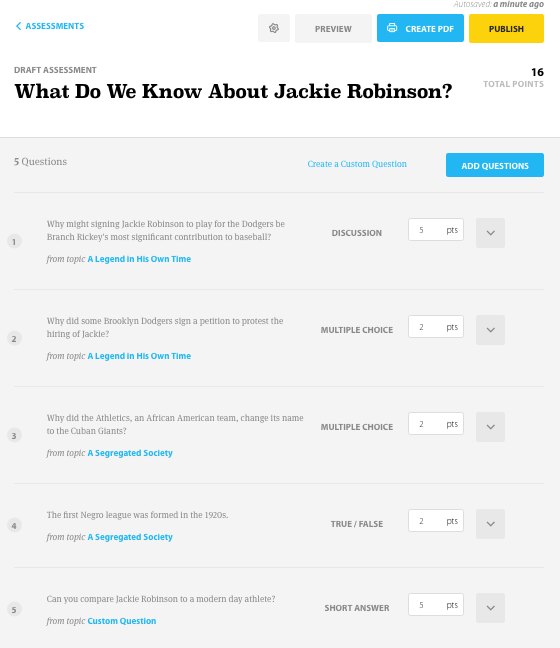 Once I saved the question I created, I went back into the questions library and added it to my assessment.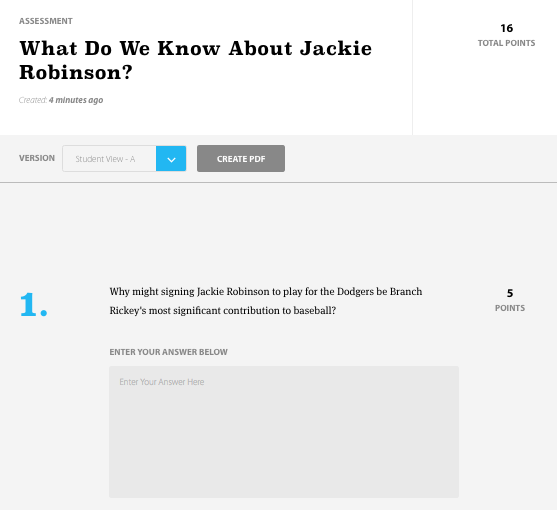 This one is now located at the top of my assessment.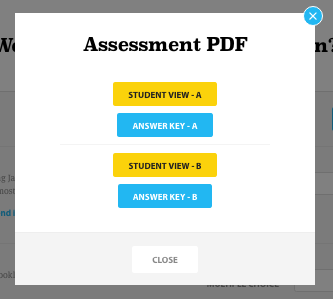 When you are finished, the assessment can be published and created as different PDF's.  This will make it very helpful when you are preparing, using and administering the assessments. You can also, of course, publish online and students will be notified that they have an assessment to take when they sign in to Kids Discover Online. 
Not only is Kids Discover exciting and engaging for students as they discover new knowledge and topics they are passionate about, now it is a place that will bring that same feeling as we see what they know through assessments.  
You can learn all about Kids Discover Assessments here. 
(Featured Image by goodluz/Shutterstock)