iPad is a trademarks of Apple Inc., registered in the U.S. and other countries. App Store is a service mark of Apple Inc.
Roman Empire for iPad
Discover far-reaching contributions of the Roman Empire, with a 360-degree panorama of the Pantheon, a view of the Colosseum past and present, and an examination into the culture and architecture that still endures today.
More Kids Discover Products
Kids Discover Online
Gain access to Kids Discover's entire library of award-winning science and social studies material on any device, at any time, for one low annual price.
Learn About Kids Discover Online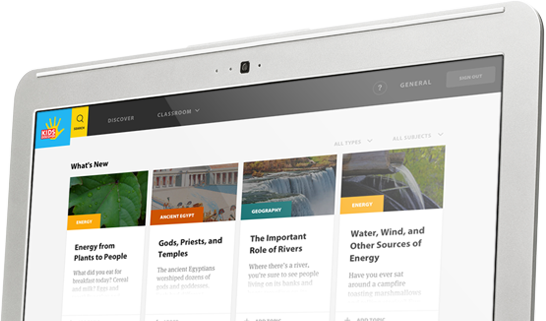 Kids Discover Magazine
Choose from over 200 titles of Kids Discover Magazine. Each issue is 20 pages in length, and is packed with iconic photographs, original illustrations, timelines, and digestible facts.
View Our Print Titles