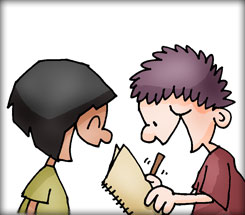 Here's something that everyone can identify with: The annual holiday newsletter. We all get them, some of us write them, a few more of us remember them, and some of us even read them. Replete with run-on sentences (this is one), OVER-CAPITALIZED WORDS, way too many of these !!!!!!!, typos, often embellished information, bad grammar, and printed on stationery so overwrought with gaudy ornamentation that even the staunchest of Santa's elves reaches for the Dramamine when reading it, these "pearls of holiday sharing" grace the mantels of our fireplaces and the doors of our refrigerators often for months afterwards.
Every year about this time, my brother mails out something akin to what I've just described. Don't get me wrong; it's good, solid information (if one can translate it, using the word translate in the loosest term), but somehow lacks the integrity and luster of say, the New York Times.
It was also the reason why I began publishing my own holiday newsletter, roughly thirteen years ago. My measured response to my sibling's annual tome was to be well designed, carefully researched, thoughtfully written, and largely factual—though I reserved the right to make my children and close friends taller, smarter, and more financially unencumbered. When some of the recipients of my bulletin began to question its truthiness, I immediately instituted a subscription policy: "Send me five dollars and I will take your name off the list."
And though I did not mean to, the process of collecting information for and publishing those newsletters not only became a tradition at our house, it created an archive of memories for myself and my family. I often refer to them (now bound and cataloged within the confines of my office closet) when asked exactly when one of my sons bought his first car, or exactly when one of my sons wrecked his first car, or exactly when one of my sons paid too much for another car.
So, do you subscribe (sic) to this type of seasonal madness that is the holiday newsletter? If not, perhaps you should. And it doesn't have to be a solo effort. Get the family involved. Here are a few tips to get you started…
1) You can begin the process after the holidays if you like (for next year's publication) by keeping a small box handy for contributors to toss items into, including photos, newspaper clippings, handwritten notes, the kid's artwork (scan or shoot photos of these with your phone/camera), pertinent mail pieces (graduations, birthdays, etc.), basically anything that will help jog your memory come next December (vet bills?). If you have young authors that wish to contribute something, give them a deadline (then back it up another two weeks—trust me).
2) Come mid-November or so, begin thinking about how you want to assemble your newsletter. By date? By person? By event? I personally find that going through the now digital archive of photos from the past 11 months is a pretty good place to start.
3) Find someone in your family with good (okay, acceptable) word processing skills, or choose yourself if you feel drawn to and influenced by major works of literature. Try to find a program that is easy to use, and just start in. If you're perennially stuck in the "cheap" camp, I suggest Google doc's word processing function. I'm using it right now, and it's easy to edit with, reformat, and even add photos to. Consider using two or even three columns, which will make your best-seller easier to read and follow (there's a reason that magazines and newspapers do it this way.) If computers aren't your cup of tea, I'm sure your readers would be just as happy receiving a nostalgic telling of your year lovingly tapped out on a typewriter (better stock up on the white-out).
4) Consider creating an email friendly equivalent version of your newsletter to defray the costs of printing and mailing. In short, save your money for those soon-to-arrive VISA bills. And if you have a penchant for those aforementioned run-on sentences, consider printing on both sides of your newsletter. Most copy shops can do this either from a paper version or a computer file.
5) Very important here; have someone look through it to edit it for content and tiepoes.
6) Above all, have fun with it. Be creative (more people will read it), have a thesaurus nearby, and don't forget to date it. In ten years you'll thank me.
Teach. LEARN. Enjoy!!!!!!!!!!!!!!!!!!!!