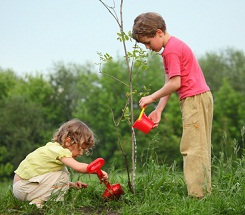 Whether walking to school or simply turning off the lights, your children can help the environment and their own futures as they celebrate Earth Day on April 22. In addition, Earth Day presents a terrific opportunity to squeeze in lessons on science and activism.
Vernal What?
My older daughter recently had a field trip to a nearby vernal pools area. I'm embarrassed to admit that when my daughter asked me what a vernal pool was and what its ecological importance was, I had to scratch my head. But after some Googling and serving as a field trip chaperone, I found the answers: Vernal pools are temporary wetlands that provide a unique habitat so that specific plants and animals can survive weather extremes.
As we traversed the vernal pools area during the field trip, my daughter and the other students were fascinated, examining the animal scat left behind, burrows in the ground, as well as the unusual plants and birds in the area. When the day was over, I heard a handful of kids say they had never been on a hike before.
For a generation who spends a bit too much time indoors and glued to electronic devices, our kids need the opportunities and encouragement to get outside and explore. A visit to a nature conservancy, a nearby river or creek, or even a city park — time spent outdoors is one of the great ways to get kids interested in nature, and in turn the environment.
Being Accountable
In addition to gaining a pure appreciation for nature, kids can learn about the cause and effect of what we do and how it affects our environment. We all need to realize that what we are doing today changes the world we will live in later.
Admittedly, it is probably a bit difficult for many young kids to understand this type of long-term causation. However, studying the way the environment works and how we live our lives is very interesting and will expose children to science and technology. Why are there higher temperatures and more droughts these days? Why are sea levels rising? Why are glaciers melting? How do all these things affect us and why should I care?
Your kids can still be taught and encouraged to practice simple methods that help our environment in a huge way. Some of the most common ideas are:
– Turning off lights and any electronic appliances when not in use
– Walking or riding a bike instead of using the car
– Reducing the amount of stuff you buy
– Recycling as much as possible
– Conserving water
– Planting trees
– Not littering
– Taking Action
Children are the ones who will be most affected by the environmental changes, yet are often the worst represented on these issues. Encourage and support your child to be heard and get involved to learn about and help the environment. For example, they can:
– Create a program for the home and family for greener living
– Examine and help to implement a greener school environment
– Help with a local conservation or clean-up effort
– Organize a school fundraiser to help save state parks
– Track and monitor plant or wildlife changes
– Analyze how best to reduce your carbon footprint
– Contribute to kids' environmental blogs with articles and/or photos
Another nice by-product to these actions is that it also helps your child learn about leadership and activism.
Earth Day is a great excuse to demonstrate support for a safe and healthy environment. But, of course, your child and family can make every day Earth Day by making a difference, enjoying nature, and looking ahead to a healthy and happy future.
Here are some websites that you and child can view to learn more about the environment, climate change, and ways to protect the Earth:
Students for the Environment | US EPA: http://www.epa.gov/students/
Environmental Websites for Kids: http://eartheasy.com/blog/2009/03/environmental-websites-for-kids/
PBS Kids: Help the Environment: http://pbskids.org/zoom/activities/action/way04.html
Kids for a Clean Environment: http://www.kidsface.org/