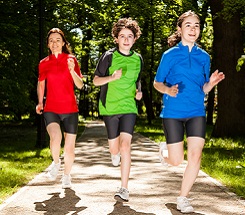 A few years ago, I took up running. I still feel uncomfortable calling myself an actual "runner", but I did manage to run my first half-marathon earlier this year – and without passing out during or after the race. Once I started running, I have to admit, I never seriously considered including my daughters in my new interest; I felt my running was my "me" time, and in comparison to other kids' sports, wondered about its benefits – and even its possible harmful effects.
Healthy and Socially Beneficial
Recently, however, I started to think a bit differently. I was encouraged to learn that my cousin and her husband (who, by the way, is an extreme-marathoner and runs about 75 miles per week!) were including their young daughters in their running. Their daughters love the family time together, as well as the challenge of running distances and beating their personal times.
Also, earlier this year, one of the teachers at my daughters' school started an after-school running training program. The training was in preparation for a local 5K race that raises funds for a scholarship program, as well as a youth fitness program. My oldest daughter participated and thoroughly enjoyed the whole experience – the challenge of incrementally increasing the amount of distance she could run, decreasing her run times little by little, and simply having fun training and hanging out with her friends. The race event proved to be a completely positive experience for her, and her expression as she crossed the finish line was priceless.
One of the things I appreciate about running is that it doesn't require a lot of expensive equipment or a special field or venue. Although you need to buy your child a good pair of running shoes to avoid injury, it's an inexpensive sport compared to some others. In particular, I love how running takes my kids and me out of the house, and even sometimes in nature. In particular, one of our favorite things to do is run in light rain.
Running is also a sport that, if done properly and with guidance, you and your child can enjoy together for years. There are not many activities that you'll both enjoy into their teenage years, but running definitely can be one of them. Runs together are not only great exercise for both of you, but present a perfect, low-pressure opportunity to chat about what's going on in their lives.
Like other challenges, running and working toward a goal are a great ways for kids to simply feel great physically and proud of themselves. They'll feel pleased once they reach that mile 1 without stopping, and will appreciate all the work it took to get there.
Keep It Reasonable
So running has wonderful health and social benefits, but is it safe? As a somewhat occasionally paranoid parent, I was concerned about how running could possibly impact my daughters' proper growth. So after doing some research, it seems the consensus is that yes, it is definitely something to closely monitor and guide, according to their ages. All children – from the very young to those going through puberty – need to be careful not to push the distances too far. For example, running too intensely and for too far of distances could detrimentally affect puberty of young girls. In addition, too much intense and long-distance running can possibly affect bone growth.
And, of course, you want your child to have a healthy approach to their bodies and exercise, so parents should talk to their child about not being obsessed with their body image and exercise. You should also take your child for regular doctor visits to make sure their body weight is in a healthy range. So encourage running as a fun activity that can become a long-term sport if done properly and approached in a balanced and healthy way.
Running for the Love of It
All those caveats aside, running at a reasonable pace and for safe distances is fantastic for kids. They'll love how they feel after a run and what they've accomplished. Personally, with the soundtrack from Chariots of Fire in my head, I love the freeing and energizing way running feels. So despite my initial reservations, I do have my daughters now join me on some of my runs (the ones that don't count as "me" time). I love their company and the conversations we have, and hope I'm encouraging them to do a sport they'll enjoy and benefit from forever.
Here are some websites to get your child started running on the right foot:
Kids' Running Guide: http://www.runnersworld.com/article/0,7120,s6-238-267–11828-0,00.html
Kidsrunning.com sponsored by Runner's World: http://www.kidsrunning.com/
Kids on the Run: The New Trend in Family-Friendly Fitness: www.health.com/health/article/0,,20411921,00.html
Road Race Runner: Find Running Races in Your State: www.roadracerunner.com