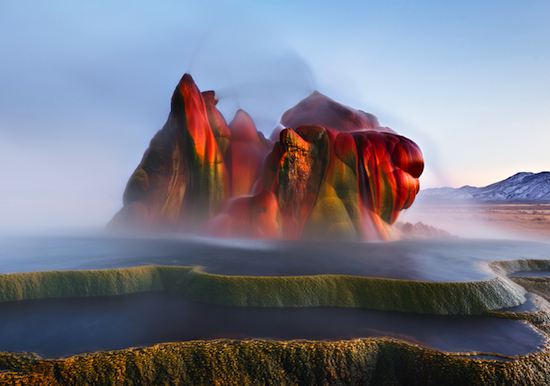 Way out on the northeast corner of Nevada's Black Rock Desert, a strange, wildly colored geyser has been spewing mineral-rich, 200-degree water for 50 years. The Fly Ranch geyser was created accidentally in 1964 by a team of engineers looking to tap geothermal energy.
When they decided not to pursue the project — 200 degrees wasn't quite hot enough for their plans — they failed to properly cap the hole they'd opened. Thus was born a man-made geyser.
Over the years, a huge mound of calcium carbonate has accumulated around the well. Thermophilic (heat-loving) algae thrive in the warm waters, providing the deep colors that make this place look so unearthly.
(Interestingly, back in 1916, a different well was drilled not far away in hopes of tapping groundwater to make this area of desert farmable. But that project didn't work out either, and a cone of mineral deposits formed on the site of that spouting well. When the second well was drilled in 1964, the first one dried up — probably because the new geyser relieved the pressure that had powered the old one.)
The Fly Ranch geyser's central mound isn't a single cone, because the waters spew from a number of holes. Surrounding it, you'll find shallow pools filled by the waters as they run off from the geyser.
Or you would find such pools, if the property were open to the public. But it is not. Fly Ranch is privately owned and off-limits to the public. Sight-seers used to leave trash and vandalize it, so the owners fenced it off.
A group of desert-lovers associated with the famous Burning Man Festival — which takes place annually, not far from Fly Ranch — is looking to buy the property and create an "artistic and ecological community" there.