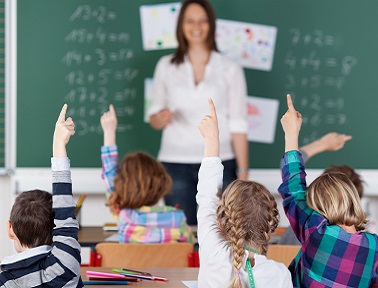 A presentation is not about the platform you choose. PowerPoint, Google Slides, Prezi, Keynote, Haiku Deck, PowToon, and other tools each give you an opportunity to put visuals into your presentation. Regardless of the platform, the visuals are an important element of the presentation– here are 5 tips for creating better presentation slides.
1. Choose White
The templates that come with a platform are easy to spot a mile away. Choosing a plain white or a plain black background allows you to be in full control of your message. You want your presentation to have an impact on the audience; intentionally choosing each element of your slide helps you to focus on what impact you want to make. Rather than window dressing, how do the colors and other elements on the slide add to the message you are trying to get across?
2. Draw Your Own Slides
One way to make a bold statement is to make your presentation unique and personal by drawing the slide images yourself. Default themes cause your slides to appear like everyone else's. Drawing your own slides ensures that your presentation has a unique look. Plus, your images are perfectly personalized to communicate your message.
You do NOT have to be an artist in order to draw your own slides. In fact, your poor drawing skills can be a perfect way to engage your audience. Interesting slides do not have to be perfect. Furthermore, the more you get into the habit of drawing your slides the better they will become. Do not wait until you have mastered the skill – embrace your inner artist today.
Make sure to choose a set of colors and use them consistently throughout the presentation. Try http://www.colourlovers.com/ to help you to find color combinations that work well together.  Keep your drawings simple. You do not need to feel as if you have artistic skills–stick to circles, squares and stick figures.
Always draw in landscape. You can use blank paper and take a photo. Shadows may be an issue so make sure you have good lighting. If you have a tablet there are many drawing apps that will allow you to export your drawings as picture images. Paper 53 on the iPad can help you create unique drawings with its watercolor and inkpen tools.
3. One Image, No Words
You want your audience focused on your presentation, not on reading the words on the slides. If your audience is reading the slides, then they're not listening to you. Even if you only have a few bulleted points on the slide, this can detract from your presentation. Challenge yourself to create an entire presentation with little to no words. A carefully chosen image intended to evoke a feeling or reaction from your audience can be very powerful. The lack of words can also prevent you from reading what is on the slides and instead focus on your presentation style.
Look for images that are at a unique angle or perspective. Funny and/or interesting images can help draw your audience into your presentation. It is important to find images that you are licensed to use. Doing an advanced search on http://www.flickr.com can help you to find Creative Commons images you can use in your presentations. If you have a camera on your phone, always be vigilant about looking for opportunities to take pictures of everyday objects in unique ways and at unique angles. Save these pictures in a folder for when you are putting presentation slides together.
4. One Word, No Image
Sometimes images and graphics can detract from your message. A plain white slide with a single word in the center can leave a powerful mark on your audience. Identify the key word, fact or number in your statement and let that one word be your slide.
5. Reduce the Opacity
When your slides require words to be placed over a picture, the words can be difficult to read. Create a shape with a white fill color behind the text. Reduce the opacity of the white fill on the shape so that you are able to see the photo image through the shape. This subtle effect brings clarity to the words but does not break up the visual image.