One of goals for the new year is to begin highlighting some of the amazing educators and parents who make up our Kids Discover community. To share their successes, we are happy to launch our Educator of the Month. We hope that you'll find some inspiration from their stories, experiences, and how they use Kids Discover with their children. From coast to coast, public school, private school, or home school, we are very thankful for everyone who is part of our Kids Discover family. 
Without further ado, we begin with Richard Powels, a 4th grade teacher from Los Angeles Unified School District with 30 years of experience under his belt.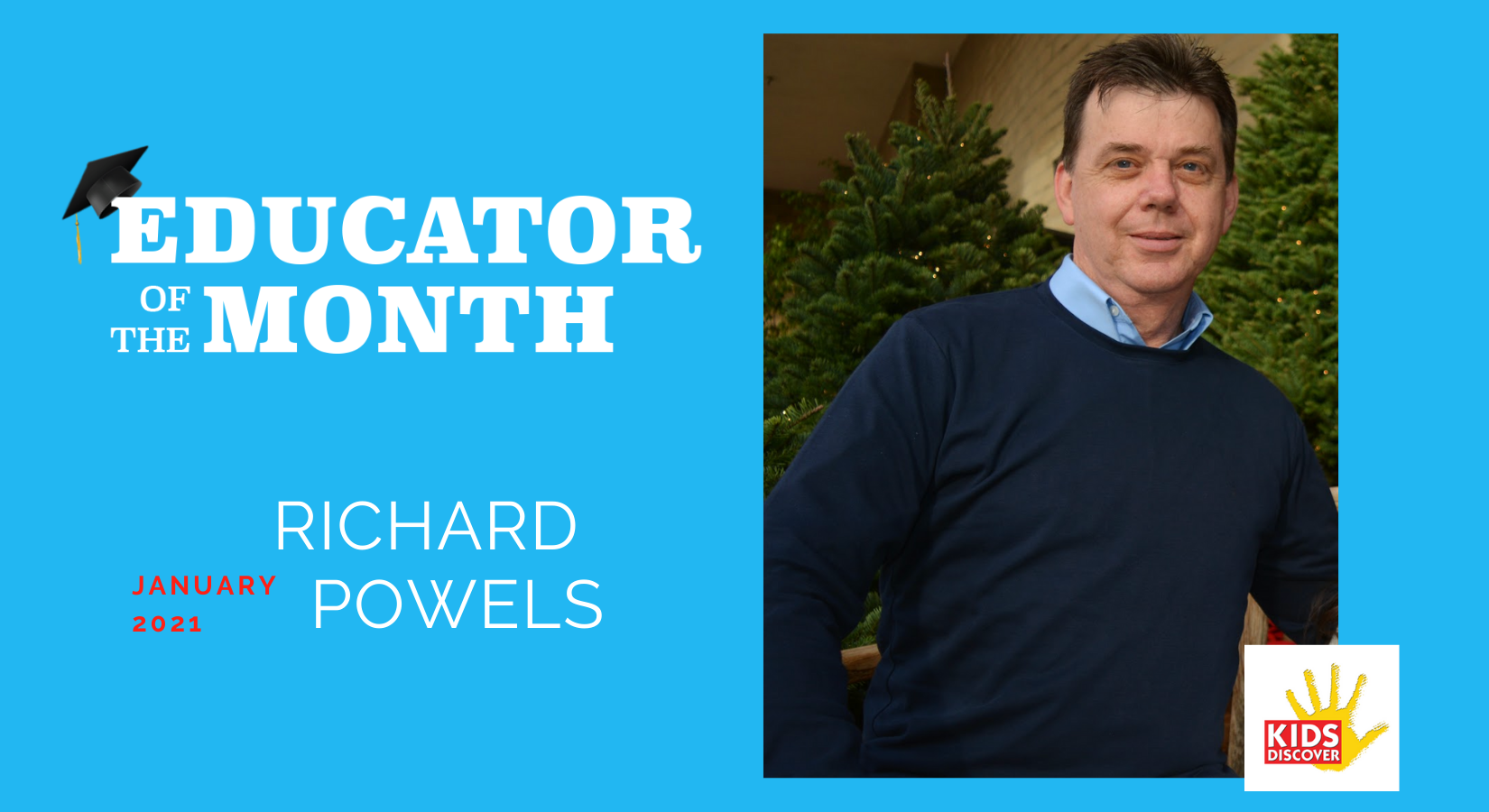 What has your teaching career looked like?
I've been fortunate to be at the same school I started at 30 years ago. One benefit of staying such a long time in one place has been teaching a second generation of students. Soon I might be teaching the grandchildren of my first class. Becoming a National Board Certified teacher was something that upped my game as a teacher. The process caused me to be more intentional about the choices I make as a teacher, and reflective of the impact I had on students. 
Where do you teach now and what grade/subject?
I teach in a small public school in Los Angeles. In fact, it is the smallest K-5 school in the entire district. It's so small that I am the only fourth-grade teacher. I have grade-level meetings of one! ! Besides art, which we have a special teacher for, I teach all subjects. I am responsible for all subjects. 
How has your teaching experience changed in 2020?
It was remarkable how quickly the transition occurred. We went from our classrooms to distance learning over a weekend! It was rough at first, and getting up to speed took a lot of time and training. Everything had to be rethought and tested. I scrambled to find resources that would work in this new environment. It required patience and open-mindedness to find the right fit. While it was flying by the seat of our pants at the beginning, once the new school year started I had more confidence and even grew to enjoy many elements of distance learning. I found that it is possible to build community, deliver engaging lessons, and even have fun in this new environment. 
When did you add Kids Discover to your classroom routine?
The amount of support educational publishers offered to help schools make it through those first hectic months of the pandemic was remarkable. Since I had used Kids Discover print editions before with my class, I was eager to try the online program when it was offered. I found it simple to add to my classroom routine through Google Classroom integration. It was a great fit! This year I decided Kids Discover was one of the programs I wanted to keep using with my class, so I subscribed. 
What is your favorite feature or aspect of Kids Discover?
There's so much to explore with Kids Discover. It has many features that I like and use. The standards search and Google integration are helpful,  but my favorite feature is the ability to set different Lexile levels for my students based on their reading ability. That really opens up access for all my students.

What are your hopes for the future of education?
I hope the teaching profession continues to attract bright and imaginative people. The work of teaching is creative and needs people with big hearts and open minds.  Also, I hope to see all the research we have about social-emotional, culturally-responsive, and brain-based learning used to help us refine our methods and give our instruction a greater impact. Finally, I hope to see the barriers to higher-education removed so that all students can continue their journey to more fulfilling lives.