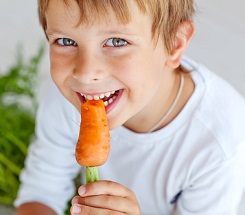 Be honest. How often are your kids' dinner plates half-filled with vegetables and fruits? If your kids are like most, the answer is probably, not very often. Of course we, as parents, know—or at least have heard—that vegetables and fruits are tickets to a nutritious diet and a healthy weight. But knowing it isn't the same as living it.
Fruits, with their natural sugars, are often an easier "sell" than….
vegetables.
They're the bane of most kids' existence. The food that occupies more than one-quarter of MyPlate, the USDA's visual guide to nutrition. And a supreme challenge for most parents interested in instilling their kids with good eating habits.
Getting kids to try vegetables is hard enough. Succeeding in having kids choose them at mealtime is deserving of an honorary mention in the Parenting Hall of Fame.  Raising children who consume vegetables without prompting is an achievement with a capital A.
When my kids were growing up (during the era of the Food Pyramid, when grains, not fruits and vegetables, were emphasized), the "house rule" was clear: You don't have to like the vegetable on your dinner plate, but you do have to try it.  This rule applied to my kids as well as to their friends who ventured over for a meal.
When the vegetables were seasoned with herbs and butter or dollops of melted cheese, the results were pretty good. I can't say how many of my kids' friends turned into regular vegetable-eaters as a result of the try-it rule, but I can say that my kids—now grown—eat vegetables.
I wish the Internet had been as rich back then, as it is now. A search for "getting kids to eat vegetables" or "kids eating healthy" yields scores of websites with tips and suggestions. Here are a few of the more interesting sites:
http://recipes.howstuffworks.com/get-your-kids-to-eat-more-vegetables.htm
http://health.usnews.com/health-news/blogs/eat-run/2013/08/13/getting-your-kids-to-say-yes-to-vegetables
http://www.cnn.com/2011/HEALTH/06/02/kids.eat.vegetables.ep/index.html
http://www.webmd.com/parenting/raising-fit-kids/food/slideshow-kids-eat-veggies
One of the most creative suggestions involves pureeing sweet potatoes and carrots, combining the mixture with yogurt and orange juice, and freezing it to make veggie popsicles.
If you don't have time to wait for popsicles to freeze, but you do have a blender, you might want to try your hand at vegetable smoothies. Vegetable smoothies are made by pureeing or liquefying vegetables and fruits—the "green" equivalent of a milkshake. They taste great, and offer a huge bang for the buck in terms of nutrition.
If your kids like the flavor of licorice, here's a smoothie they may enjoy. Don't be put off by the spinach in the recipe. It has a huge nutritional value, but no flavor in the drink. I promise, even the most discerning anti-spinach child won't notice it, even if you use more than the suggested two handfuls.
Puree or liquefy the following ingredients in a blender:
2 green apples such as Granny Smith apples
1 bulb fennel, or anise, and some of the stems
2 handfuls of spinach, or more
¼ pineapple
1 stalk of celery
1 inch of fresh ginger
Add water or chopped ice to thin the mixture to the desired consistency. Pour and enjoy!
The recipe makes 32-40 ounces, depending on how much water you add. Ginger and fennel give the drink a refreshing, light-licorice flavor. The apples and pineapple are natural sweeteners.
This smoothie packs a wallop of nutrition into a16-ounce glass, including over 50% of the amount of Vitamins A and C that we need every day, almost 10% of the needed Calcium, and an even greater percentage of our daily need for Potassium and Magnesium.*
I adapted the recipe from one I found online by substituting pineapple for mango and pear. Here's the site where I found the original recipe as well as others, which are also worth trying. An Internet search for "vegetable smoothies for kids" yields even more sites with great ideas.
http://www.raw-foods-diet-center.com/the-fabulous-fennel-drink.html
Vegetable smoothies don't necessarily help satisfy the need for fiber. (Pureeing or liquefying the veggies breaks the fiber into tiny pieces as opposed to the longer strands in the whole food.) But as a way to get needed vitamins, minerals, and proteins into your kid's body, they can't be beat.
See for yourself.